Provision of Internal Audit Services for Griffith City Council 1 October 2021 …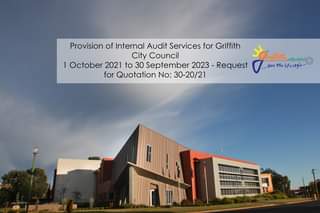 Provision of Internal Audit Services for Griffith City Council
1 October 2021 to 30 September 2023 – Request for Quotation No: 30-20/21
Griffith City Council invites quotations for the Provision of Internal
Audit Services to Griffith City Council from 1 October 2021 to 30 September 2023.
Quotations close on Thursday, 27 May 2021 at 2pm. Quotation documents may be obtained at www.tenderlink.com/griffith.
Should you require any assistance please contact Tenderlink Customer Service by telephoning 1800 233 533.
Quotations may be lodged electronically at www.tenderlink.com/griffith, hand delivered to Council Offices at 1 Benerembah Street, Griffith NSW 2680 or by post to PO Box 485 Griffith NSW 2680.